The beginning was made in 2018 – 1st Fat-Trike-Meeting in the Lüneburg Heath
On the first weekend of June 2018, the 1st Fat-Trike-Meeting took place in Faßberg, Lower Saxony. ICLETTA and ECSTATIX had invited all full fat pilots and fat tricers to go on a tour through the beautiful Lüneburg Heath. The sandy bottom was supposed to be the perfect playground for our recumbents and we hoped that some Fat-Trikers would set off to spend a weekend full of fat tires with us.
On Friday, 01st June 2018 it was finally time: the base camp at the campsite "Heidecamping Gerdehaus" was opened, the first participants arrived and made their various expedition vehicles ready to go. Of course, meanwhile, our adventurers could spend some time talking about their experiences and insights in the field of multi-lane fatbiking.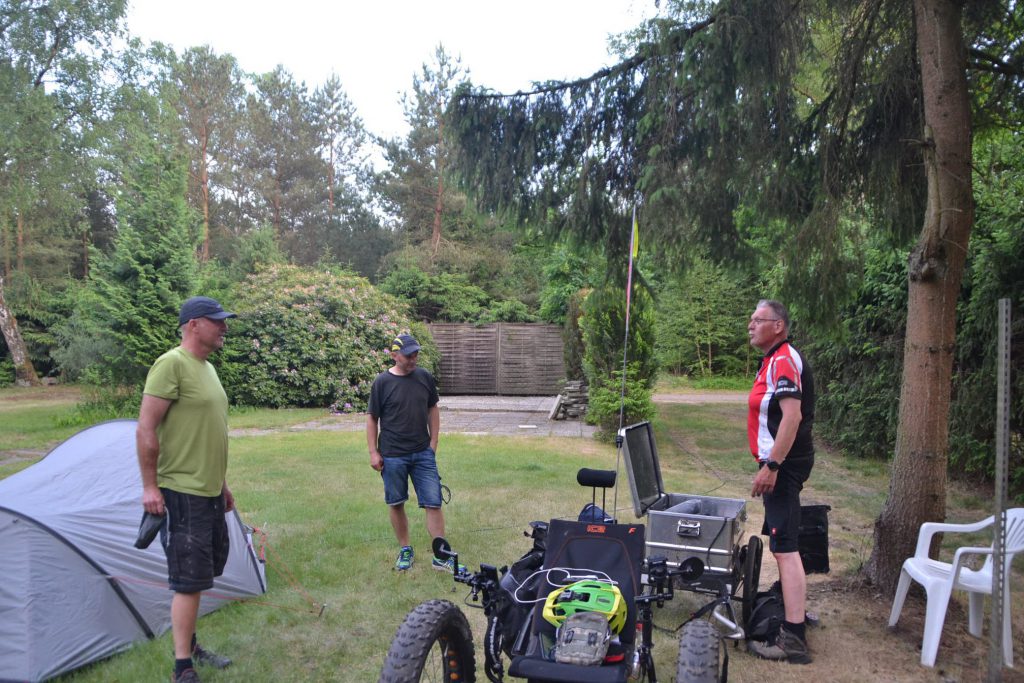 Most of the participants had decided for a tent as accommodation and could enjoy a pleasant camping experience due to the warm weather. While it had become constantly hotter in the weeks before and already the highest forest fire danger level had been proclaimed, surprised the Fat-Trike-Meeting with pleasant temperatures by 20 degrees and in places refreshing drizzle.
But some people did not miss spending the nights in a more luxurious place. Of course, everyone went together on Friday evening to enjoy a hearty meal at Ingos Grilleck.
Of course, every fat biker is welcome at this Fat-Trike-Meeting, regardless of the make or wheel count of his vehicle. So it happened that in addition to six full-fat recumbents a quad also went on tour.
On Saturday, meanwhile, the last stragglers had arrived, finally the participants of the first Fat-Trike-Meeting were able to set off on their way and to undertake the prepared tour through the Lüneburg Heath together.
Of course there was enough time on the way to talk about all sorts of topics. Here and there were sometimes exchanged the vehicles and there was the possibility to compare the individual equipment with each other. As this weekend quite a few other excursionists were traveling, the recumbent group had the road network completely for themselves.
The route had been devised in advance by the organizer Peter Florek and also led across several sweeping moorland whose idyll could be perfectly enjoyed from the recumbent trike.
The sandy soil of some cycle paths was very much disturbed due to forestry work. These sections cost a lot of strength, even with thick balloon tires, and secretly everyone was happy when the group overcame those challenges.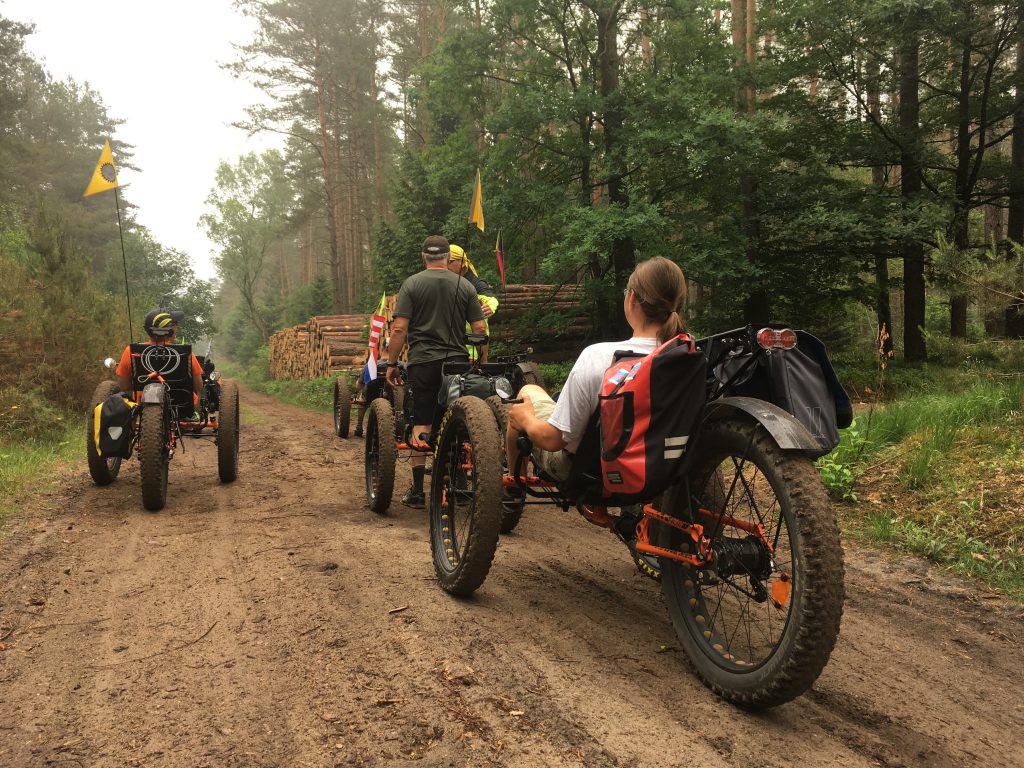 One participant even came from the Netherlands, which had helped the first Fat-Trike-Meeting to an international event. Of course we say "thanks u wel" and hope to be back with an international group of trike friends again next time.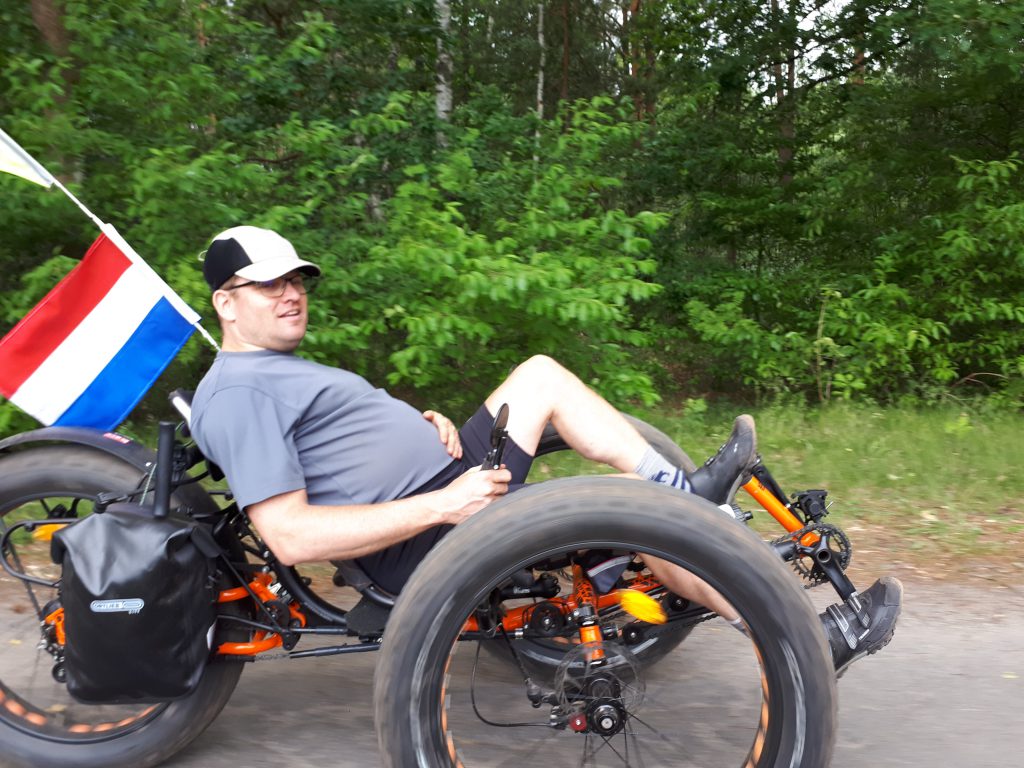 After a strenuous day on three wheels, the full-fat column finally rolled back into the campsite on Saturday night. Before the forthcoming strengthening on the grill, one or the other trike pilot indulged in a well-deserved rest. Satisfied, participants slipped into their tents relatively quickly after dinner, as a generous dose of sleep seemed to entice them.
On Sunday morning, the 1st Fat-Trike-Meeting was then officially ended, but this did not prevent three of the participants to start a second tour of the Lüneburg Heath that day. The remaining participants preferred to make their way home calmly.
We would like to sincerely thank Kirk Seifert and Peter Kirschke for their great support for our 1st Fat-Trike-Meeting. Without them, this event would not have received such an encouragement and received such a great media reach.
Here is a short film about the 1st Fat Trike meeting in Faßberg.
If you feel like joining us next time, then you should book the weekend between the 13th – 15th of September 2019 to keep clear.